1st grade math worksheets helps grade 1 students to review their entire curriculum. Students can download this 1st grade math worksheet and check their answers provide below.
1.
Choose an odd number from the following:
2.
Which of the following is greater in value?
3.
The ordinal name of 6 is ____
4.
5 tens+7 ones=________
6.
There are 14 roses in the garden. 8 of the roses are red and the remaining roses are white. Find the number of white roses in the garden.
5, 10, 15, 20, ___, 30, 35.

9.
Fill in the place holder:
37 20=17

8+7=___+8

11.
The given table shows the list of pet animals maintained in a locality. Which pet is least in number?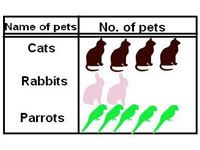 12.
Find the missing pattern.
a.

b.
c.

d.

13.

The given picture is a ______
14.
The calendar show today is Tuesday. What day will it be tomorrow?
15.
How many months are there in a year?
16.
Natalie, a first grade student has 5 dollars with her. How does she represent her money value?
18.
Which of following is more than 10?
19.
Jenny got 5 candies from White, 6 from Pete and 4 from Margaret. Who gave more number of candies to Jenny?
20.
What is 1 less than 10?
Download:
Questions:

Answers:

Related Articles: